Dai-Tetsu's obento
Try out our obento boxes during your Steam Locomotive ride. They are all come with free tea and local goodness such as green tea and sakura shrimps. (All prices inc. tax)
| | |
| --- | --- |
| Inquiries |  Dai-Tetsu Trading TEL:0547−45−2230 / FAX:0547−45−4116( Office Hours: 9AM~5PM ) |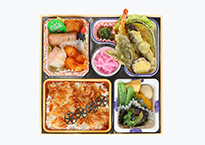 Kisha Bento
Most popular Kisha Bento has been renewed and revived! SL-wheel-shaped Japanese seaweed(nori) stands out. Simmered seasonal vegetables, tempra teriyaki tuna etc.
¥1,300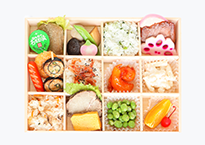 Aji Kurabe
This bento makes your trip luxury. There are various high-end dishes such as sakura shrimps and steamed poak with tea leaves. There are 3 kinds of rice with seasoning. It makes you full.
¥1,490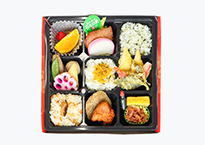 Kawane-ji San-shoku
Popular among women! Inspired by rich nature around Oigawa Railway, it has been made as colorful with various dishes; seasonal boiled vegetables(nimono), tempra, rice with seasoning etc.
¥1,250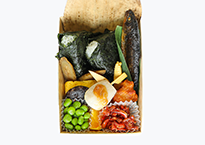 Oigawa Furusato Bento
Most popular bento! Rice balls, boiled char fish, Japanese traditional boiled vegetables(nimono), etc. are wrapped by bamboo skin. [With SL Postcard]
¥1,150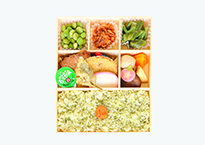 Chameshi Bento
The rice is cooked with tea leaves made in Shizuoka. Tea is the speciality here. Tea leave rice smell fresh. It matches with the fresh view from SL.
¥1,150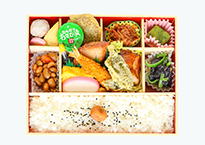 Special Makunouchi Bento
There are various kinds of Shizuoka-local dishes and rice with salted Japanese apricot. Nutritionally balanced dishes make you full. Please enjoy wasabi-tasted seasoning on rice as you like.
¥1,200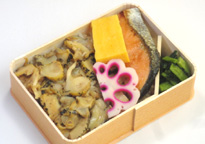 Hidaka Tsubumeshi Bento
The main dish is chewy Japanese whelk on rice cooked with dried kelp broth(konbu-dashi). This delicious whelk can usually be gotten only in Hokkaido.Note: Sold only on weekends and holidays
¥980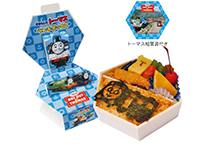 Thomas Lunch Box
Thomas and friends will put a smile on your little ones. This bento has various favorite dishes of children.
¥1,180