Thank you for using the Oigawa Railway Group.
In September 2015, the Oigawa Railway Group decided on a new group-wide management policy based on the idea of ??"Change to a Comprehensive Transportation Service Business" instead of the one of the conventional transportation company.
This idea means converting to a "service business" that can provide high satisfaction to more customers. (Of course, there is responsibility for safety operation as a transportation company.) We aim to provide services that exceed customer's expectations, build a good relationship as customers can say "thank you", and create many "thank you" between group employees and customers.
At the same time, we will also carry out "improvement activities" to constantly improve the quality of service. We collect information beyond the boundaries of departments and group companies, and do actual improvement activities.
In addition, as a company rooted in the local community, we will also conduct "collaborative activities" with people along the Oigawa Railway. We will establish a developmental cooperative relationship with the local government, hold events involving the area along the Oigawa Railway, improve regional brand, and so on. In order to show and realize what we should be, it is important to exchange information and to make continuous efforts on both sides.
The Oigawa Railway Group has begun a new path.
We borrow this opportunity to promise the rebirth as a company that continuously carries out improvement activities from the perspective of customers all the time, and to create more value and revitalize the whole area along the Oigawa River.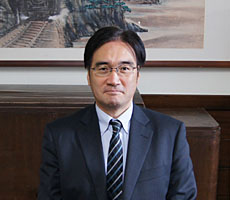 CEO Hajime Suzuki
Oigawa Railway Group