Places of interest along the railway
Here are some interesting places and beautiful views you can visit on our trains.
Places of interest
Sakura in Ieyama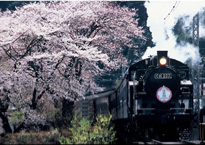 The cherry blossoms along the bank are spectacular in spring time. Why not take a walk around Ieyama station?
Sakura in Tokuyama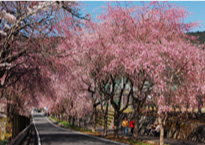 Every year, many people come to see cherry blossoms in Tokuyama. Take the local trains to enjoy the sight.
Nukuri in early summer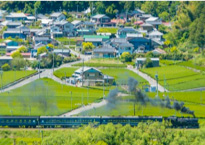 Vast green tea fields spread across Nukuri. Leaves are bright green in May. Enjoy the soft and sweet smell along with the summer breeze.
Autumn leaves in Sumata-kyo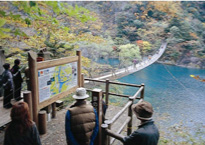 The view from Yume no Tsuribashi is popular in autumn for its colours. A paper lantern festival is also held during the season.
Exclusive views
Jina's tunnel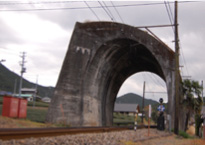 It is famous for its length - not the longest, but the shortest in Japan. Try not to miss it!
Oku-Oi Kojo station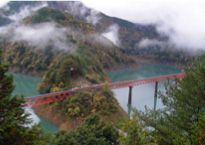 An unstaffed station in the middle of Sesso-kyo. Only Abt System Trains can take you to this secret spot.
Abt Ichishiro station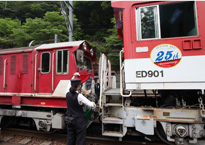 This is the only station in Japan you can see Abt System Trains being connected. A special experience.
Raccoon village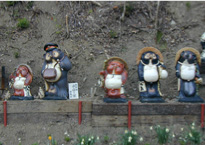 Raccoons made in Shigaraki will greet you at Kamio station. See if they wave back at you.
Onsen / Hot springs
Kawane Onsen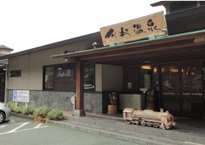 Near Kawane Onsen Sasamado station. You can see the Steam Locomotives due to the location. There are places to stay, too.
Sumata-kyo Onsen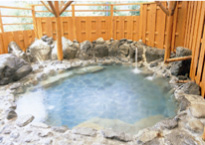 30-minute bus ride from Okuizumi station. The water is slimy and believed to be good for your skin.
Sesso-kyo Onsen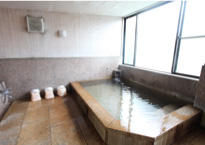 Abt System Trains will take you to this secret spot. The clear and thick water is thought to encourage rejuvenation.